I'm back and finally, sort of, a little bit into the swing of things. Vegas was a blast and a much needed vacation for me and hubs. We didn't do the tourist thing since we did that on our honeymoon, and honestly, when I do the tourist thing I never feel much like it's a vacation. This time, we did WHATEVER WE WANTED and it was blissful. Living on buffets of eight different types of food, a variety of alcoholic beverages that usually
cost
me a buck, and as much sleep and gambling (I'm a sucker for any kind of "game") I wanted, my stress level was well below zero.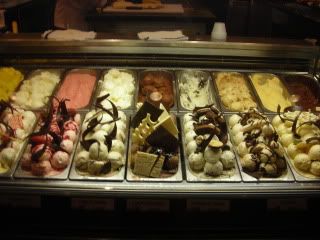 My favorite was the dessert bars, of course, with their wonderfully delicious, multitude of flavors,
gelato
. I've only had
gelato
once before Vegas, and I totally blew that ratio out of the water this weekend!
We stayed at the Rio, which has the World Seafood buffet, and despite my allergy to shellfish, lobster is typically my favorite
indulgence
. I have seen a difference in the economy versus the last time we visited Vegas seven years ago. For example, the lobster tails were half the size they were last time. And, wow, the city unfortunately looks a little more dumpier. But it didn't take away from the fun!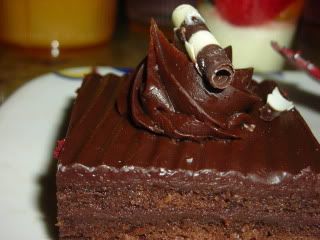 This was one of my favorite non-
gelato
desserts.
It was dark chocolate icing, and rich but light and oh-so-yummy. Saturday hubs and I spent most of the day tipsy to the point of finding things hysterical we normally wouldn't find funny at all and It. Was. Great. We usually only drink on
occasion
, and I started Saturday off with three mimosa's and two
poinsettia's
and then we shared an Eiffel Tower
pinacolada
from Paris,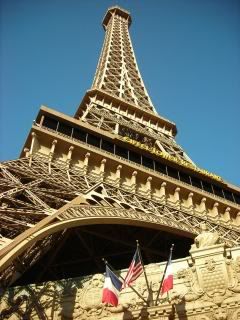 not to mention all the "free" drinks later that evening whilst gambling. And yes, I DID win (only twice on the slots, $50 on a nickel machine, and another $30 on a different nickel machine...the first was a Star Wars slot...it could feel my love for it I guess!) and then we went downtown and I doubled my bet in Black Jack (my favorite of all time). Of course, I spent it all, because that's what we went to Vegas to do!
We missed the girls terribly on Sunday, and Monday was spent ALL DAY flying or stuck in lay-over. I read MY SOUL TO TAKE by Rachel Vincent, which was a great read and a great distraction from my travel sickness. The girls were
ecstatic
to see us, especially the baby who gave me this big wide-eyed look when she saw me that read "OH! You didn't leave me after all, I'm so
relieved
!" (She didn't sleep well at all for the moms). Speaking of the mothers, why do I even write notes down (that THEY requested) about the girls and their routines if they don't follow them? Both girls went to bed at least 2 hours passed their bedtimes every night, and many other things were overlooked in my notes (or ignored). But, the girls had fun (especially big girl) so I suppose that's all that matters. I'd be more ticked off if they weren't so happy to have mom and dad back that they fell right back into routine without so much as a wail.
I slept great in Vegas because I had nothing to worry or stress about or plan. Now that I'm back home, and I did miss home, I can't sleep again. Back to taking melatonin because my brain just doesn't know when to turn off! Anyway, so there was my trip in a nutshell. I didn't even mention how it started out bad (we didn't show up early enough for our bag to get on our flight, the pilots didn't show at all, and our plane was almost 2 hours late in getting out of Texas) but I told hubs we had to stay positive, and luckily it all worked out. We each got free lunch, and our bag arrived on another flight about the same time we got to Vegas since we were so late.
Yay
for optimism!
And now I'm back to researching Greece for my
WIP
and attending workshop tonight with my fellow workshop writers. School starts next week for me (eek!) and the week after for big girl. Once again, life is going at a break-neck speed!
Our room view of the strip.