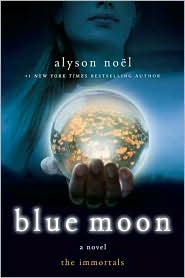 I want to welcome to my blog a talented YA author whose 9th book,Blue Moon, has just released in book stores in July. Everyone help me welcome Alyson Noël and feel free to pick up the first in the Immortal series if you haven't read it yet, Evermore.
Before I begin the initial interview, I have to ask so I know I'm pronouncing it properly. Is it Noel like the Christmas song? Or more like Nole? (in my head I always think the Christmas song).
It's Noël like Christmas. I was born in December so my mom thought it would be a good fit!
Could you share with us how you came about realizing you wanted to write a book, and how that book turned out to be your debut, Faking 19?
Well, I wanted to be a writer ever since I finished reading Judy Blume's ARE YOU THERE GOD? IT'S ME, MARGARET back in sixth grade. But other than some truly dreadful poetry written in junior high, and some short stories penned in high school, I mostly just talked about it until the tragic events of 9/11 hit and I was working as aNew York City based flight attendant, and figured I'd wasted enough time already and decided to go after my dream. I didn't purposely set out to write YA per se, it was more that I had a burning story to tell which just so happened to be about a teen. What started as a short story eventually grew into a book, which then became my debut novel, FAKING 19.
A lot of author's tend to put a little, if not a lot, of them into a character. Do you see a lot of you in Alex (the main character in Faking 19 for those who are wondering)?
Although her experiences are fiction, Alex is definitely me back then. I was completely lost, wandering way off the trail, and had no idea what my future might bring, and no real safety net to catch me if I fell. Those were tough times indeed, but, like Alex, we both made it through!
Out of all your characters, which ones do you relate to the most?
I put a little bit of myself into most of my characters, but the ones I relate to the most are probably Alex in FAKING 19 for the reasons mentioned above, as well as Echo in SAVING ZOË and Ever in THE IMMORTALS series—they've experienced a fair share of pain, loss, and abandonment, and writing their stories helped me come to terms with my own.
One of my favorite questions, and one that most of my readers love to read about: what was your experience like when querying for an agent? And then when you went on sub?
Well, my route to publishing wasn't the usual one, and the truth is, I didn't query any agents. I was so green and naïve I went straight to the publishers and received a slew of rejection letters for my efforts, though most of them said they'd love to see it again if I was willing to revise. So I set out to do just that, enrolling in an online writing class to try to figure out what I was doing wrong, and it was a fellow student in that class who lead me to my first agent. When it went out on sub, it was an extremely, hand wringing, nervous making, emotional time, and after months of rejections, I finally pushed it out of my mind and got to work on a new story, and, as luck would have it, the very next day I received an offer of a two-book deal from St. Martin's Press, and I've been writing for them ever since!
Evermore was Alyson's first break into Paranormal Fantasy. It's all about 16 ½ year old Ever who, after being the only one to survive her family's car wreck, is left to live a strange life of abilities that go beyond telepathy and being clairvoyant. She tries to hide and avoid her weirdness, but when the mysterious boy, Damen, enters her life, it seems to get ten times stranger.

Alyson, how was it to delve into YA fantasy?
It's been so incredibly fun to write Ever's story and create the mystical dimension of Summerland I can hardly believe I waited so long to do this!
I have to admit, I read Evermore in 1 ½ days and enjoyed the twist you gave to Damen's character versus the trend that's making rounds in teen books today. Without giving too much away (for those who haven't read the book yet –gasp!-) what made you come up with these different ideas?
After going through a tremendous period of grief a few years ago where I lost three people I loved in five months and then nearly lost my husband to leukemia (he's in full remission now!), I found my way through it by delving into my work, and reading loads of metaphysical books on ghosts, psychics, mediums, reincarnation, near death experiences, angels, chakras, crystals, etc—all subjects I've always been interested in—all of which I used to build Ever and Damen's story.
Blue Moon, which released July 7th, 2009 (and the book trailer is at the end of the interview), continues Ever's adventure with Damen and the world of Immortal's. Give us a few lines about Ever's new struggles in the second of the series.
In BLUE MOON Ever really starts to come into her own, testing the limits of her new immortals gifts and finally getting comfortable in her skin. She's also getting to know Damen a little better who was kept purposely mysterious in EVERMORE. But just as her powers are increasing, Damen's are decreasing. And when she travels to Summerland to search for a cure to save him, she discovers the workings of time and is forced to make a heart wrenching choice between going back to the past to save her family from the accident that claimed them—or staying in the future and saving Damen . . .
And finally, what do you feed your muse? For example, mine loves dark chocolate (which is why I probably have yet to shed these last few pounds of baby weight). It's always around the desk when I write. What about you?
My muse responds to loads of green tea, a great playlist, and vanilla scented candles!
Alyson, thank you for "stopping by" my blog today. I look forward to reading "Blue Moon", and to those dropping by, remember to go pick up your copy at a local bookstore or online when you can! Alyson Noël is also the author of "Art Geeks and Prom Queens" "Fly Me to the Moon", "Cruel Summer", "Kiss & Blog", "Laguna Cove", and "Saving Zoë".