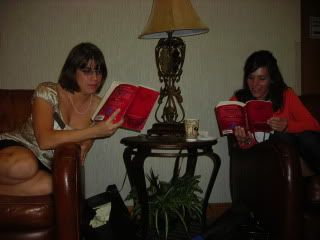 Hello, my name is ChristaCarol Jones, and I'm a writerholic.
One thing I love about going to things like conferences is the inspiration and motivation floating in the air like a contagious disease. Ever since returning, all I think, breathe, sleep are my stories. Every waking minute I want to write, even when it's completely impossible. Study for algebra? Pffft. Relaxing day at the spa? Hah! Give me some good tunes and silence, and let me type until my fingers fall off, please.
(Well, I *am* going to get a weekend OFF...that's right...VACATION TIME all weekend in a few weeks. Away from kids. Away from loving hubs. Just me, with no responsibility. I plan on then visiting the spa, and....yes, you guessed it, writing!)
I had so much fun at the conference I actually forgot to take many pictures. The two I'll share are
Tiffany
and I reading the same book (no, this wasn't planned!) up above, and my other awesome YA friend, Jenny (from
Book Binge)
at one of the agent parties.
I really wish I had more pictures to share, it really was an amazing time. Sick of hearing that yet? But because of my mind being completely ruled by my muse, Good News Thursday is pretty much all about me blabbering about this conference, missing the great friends I got to meet up with, and my WIPs. MYTHIC, of course, has not been a WIP for a while, and all I want to say is keep your fingers and toes crossed for me!
I have the MG, which I've tentatively titled The Cloud Crystal, that I'm slowly making progress on. And a new YA non-fantasy contemporary that I'm just now plotting. I also have another YA fantasy I've plotted already, fermenting in my head until I'm ready to release it on paper...er....the PC? I've never had the problem of multiple projects, so we'll see how I deal. I'm looking forward to my Wed. night meet-ups with
DFW Writers' Workshop
, and my weekend meetups with Tiffany. There are days I sort of wish I wasn't in school, just for the sake of time and stress. But I really want my Bachelors, too. At least it's only part time. And so far, I'm making a B+ in both classes, that counts for something, right?
So I think I've blabbed enough! I'd love to know if you have any good news to share or things to blab about. Or, since I failed my duty of linking to contests, if you have one to talk about, you know what to do!
Shine On!