I tell ya, mommy brain is the worst! Even more so when you have an entire cabinet shelf dedicated to medications you need to give one of your kids on a daily basis! Pressure, much?
In all seriousness, almost every day I feel like my brain has taken a hiatus on me with no notice. I forget the silliest things and feel like a frazzled ditz hyped up on Red Bull. This past weekend, my parents offered to watch all 3 kids so Chad and I could take a mini-vacay for our anniversary. Wow, was it blissful! Ended way too soon, but we did happen to sleep in until 11am! Makes a big difference when all 3 children decide to wake up and come in our room at difference hours of the night (or you know, just need their bottle because the world is obviously ending otherwise).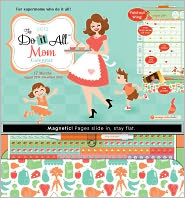 Things are getting a bit more manageable over here with little Alaina's diagnosis. The oil companies should love us though as we're definitely handing them chunks of our cash on a daily basis to get to all these clinic appointments. There was a week in there where almost every day was filled with appointments: for me (postpartum), baby (monthly well visit) and of course, Alaina. Then I realized my eldest hasn't had her year well check yet, either. Ooops! She now has an appointment. But man, this mom thing can be tough and exhausting! During our mini-vacay (which was in Dallas) I bought myself a
Mom Calendar
for the fridge from B&N that has tabs for everyone in the family and a spot for them on the calendar. LOVE IT. Plus it has a pen holder. Now, if I can just remember to put the pen BACK in the holder when I'm done with it so I don't lose it. ;-)
Alaina is responding well to the chemotherapy. We had to have a 6 day stay in the hospital due to hip fluid 2 weeks ago but she's bounced back and was running (and at a pretty normal gait, too!) this evening all through the house yelling, "Run, mommy! I wanna run! Run with you!" She commonly says "you" instead of "me" when speaking and I just don't have the heart to correct her yet. It's too cute.
I e-mailed Averie's counselor, questioning on whether or not she thinks Av will need counseling. She has a lot of anxiety and has been complaining a lot about her tummy hurting. Plus, almost every night manages to find her way into our bed. I'm doing my best to make sure she gets attention and feels like she has a role in the family after it's changed so much, but sometimes I feel like I'm still not doing good enough! I am a big nerd though, because I got so excited when she came home today with her first spelling list. Squee! They took a pre-test and she only got 1 wrong! I've already loaded the iPod up with a spelling test app (she played it today and enjoyed it!) and made little worksheets for her spelling words. The teacher in me is raging to get out, apparently.
As for me, I managed to get 10 minutes of Zumba in from my Wii Zumba dance thing. Didn't figure out how to work the belt yet, but 10 minutes into it and all the kids were having some sort of breakdown. I need to find a time to do it ALONE but not sure that's possible. At night I'm so utterly exhausted after the production (as one of my friends appropriately calls it) of putting them to bed is over. No Zumba for me then. So naptime is my only real choice unless I want to share the dance floor with my girls and risk several interruptions or meltdowns because they don't like the song playing. Such little divas I have!
Well, this is probably it for now. I had several moments these past few weeks where I could've written a very emotional post but sleep deprivation got to me first and it's sneaking up on me again even after this weekend of rest. I have a feeling this is the biggest culprit to my missing brain. On a high note, go check out
my good friend's blog
she just started. Suzanne is awesome and I've always admired her ability to stay and eat fit! She even motivated me to stop being lazy and write this post. Not sure I have many followers anymore what with my random posting, but if you're out there, give her a visit. You won't be sorry!